SONAX XTREME Wheel Cleaner
---
The safest & most effective way to get your wheels clean.
✓ Highly effective on caked-on, stubborn brake dust
✓ Safe for use on painted, polished, steel/alloy & ceramic coated rims
✓ Effective iron remover & turns purple as dust/dirt is penetrated
✓ Does not affect TPMS sensors, wheel nuts/bolts, brake callipers or centre locks
Please note free shipping does not apply to heavy items (5kg+ Canisters).
SONAX Wheel Cleaner - the iconic pH neutral, iron removing formula!

Formulated car wheel cleaner to be safe on all wheel finishes, including painted, chrome, steel, aluminium, ceramic coated, and anodised rims. 100% Acid free. 

The Iron decontamination element helps to break down brake dust and deliver instant results. Just spray it on and watch as the liquid turns purple, letting you see the cleaning power in action.

In just minutes, your wheels will be clean and bright - without any harsh chemicals or scrubbing. It comes in a high-quality spray bottle that is both ergonomic and easy to use. German-engineered mag wheel cleaner for superior quality and performance.

Did you know? SONAX developed the original iron removing wheel cleaner! It all started in the early 2000's when SONAX pioneered the technology.

Researched, developed & manufactured in Germany.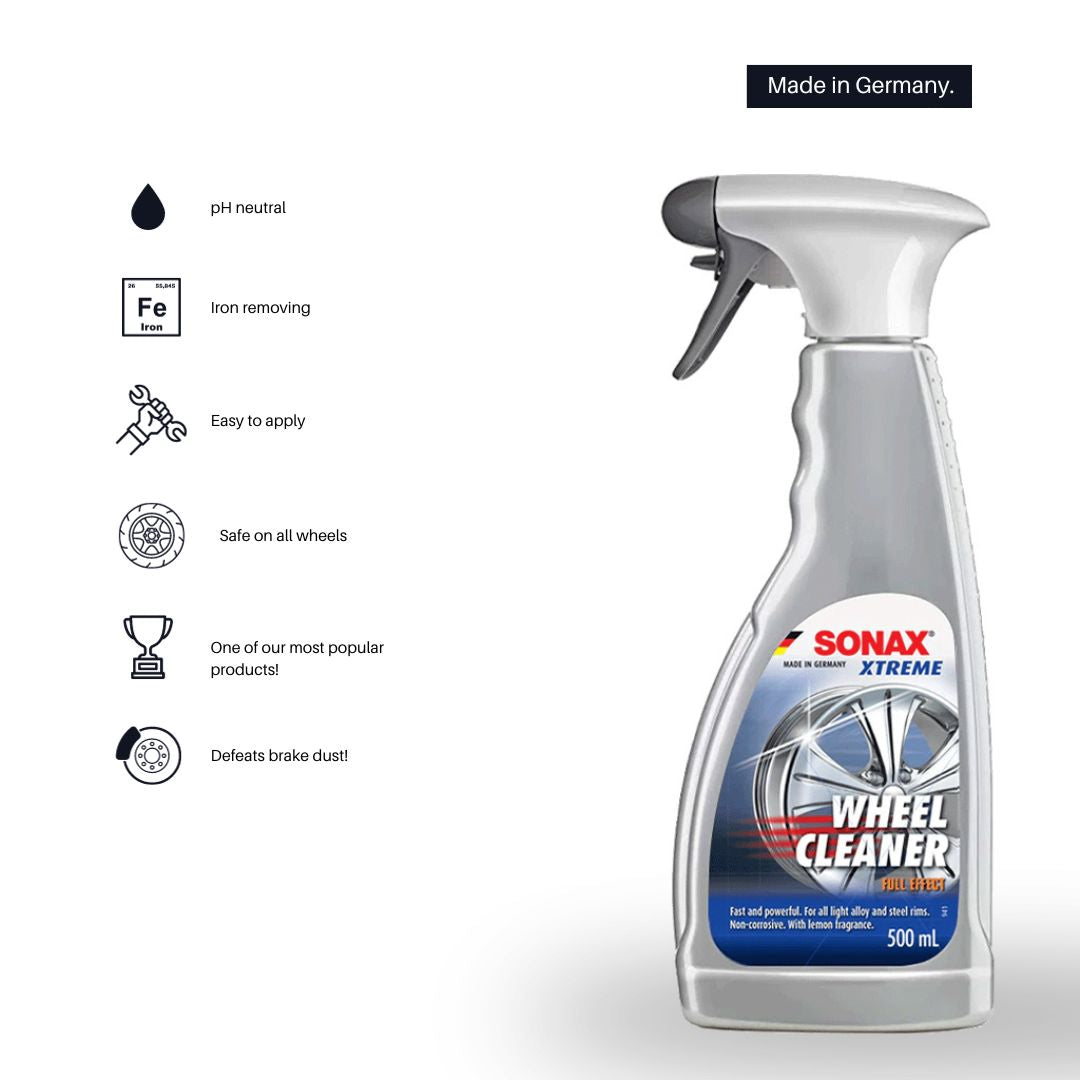 Wheel cleaning made easy
There's a reason our wheel cleaner is famous among detailers & enthusiasts... It actually works.

Not only that, it's super safe for your rims.