SONAX XTREME Rich Foam Shampoo Trade Pack
---
A PH Neutral, Berry scented shampoo that produces Incredible Suds!
✓ Dense snow that intensively pre-washes (or use as standalone wash).
✓ Safe for sealants, ceramic coatings & wax.
✓ Use in a foam cannon or contact wash (Bucket & sponge).
✓ Excellent surface lubrication.
Please note free shipping does not apply to heavy items (5kg+ Canisters).
PRODUCT DESCRIPTION
SONAX Rich Foam Shampoo can be used as a contactless wash or as a traditional bucket & sponge car wash. No need to stress about your coating, paint or exterior surfaces - You're all good to go with our PH neutral formula. The Berry scent is so good you may be tempted to take a sip (Not recommended). 

Use a foam cannon or foam gun: These tools help create a thick and consistent foam, ensuring better coverage and cleaning performance. Before applying the foam, give your car a quick rinse to remove loose dirt and debris, allowing the foam to focus on deeper cleaning. Experiment with foam thickness: Adjust your foam cannon or foam gun settings to achieve the desired foam thickness.


Benefits:
- Provides a thorough yet gentle clean for your car.
- Versatile and convenient to use.
- Leaves your car exceptionally glossy.
- Protects the integrity of your car's coatings, sealants and paintwork.

SONAX Rich Foam Shampoo is available in 1L or 5L.



Avoid direct sunlight: Wash your car in a shaded area or during cooler parts of the day to prevent the foam from drying too quickly.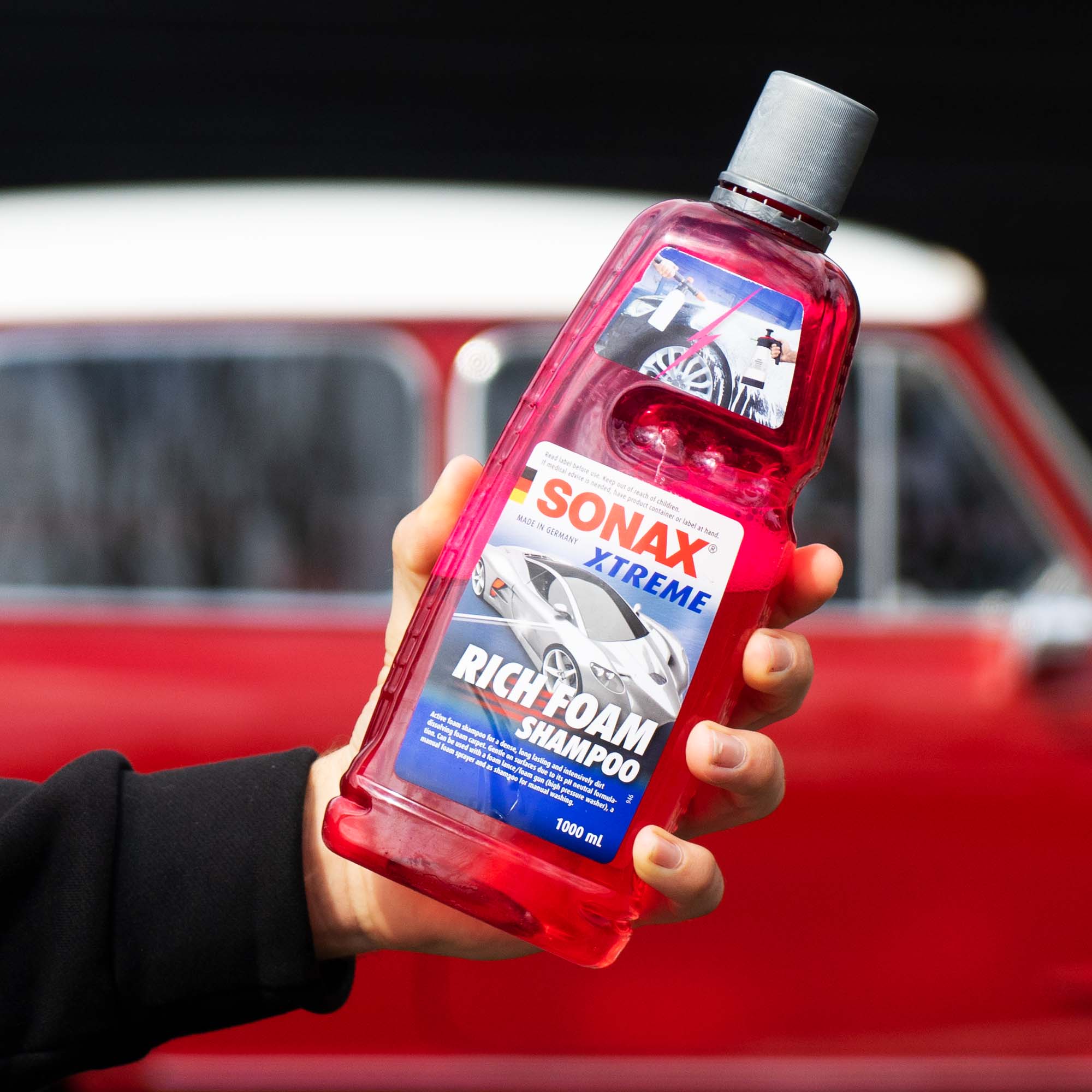 SONAX RICHFOAM
Just foam it
The rich foam formula clings to the surface, allowing for a thorough and gentle cleaning. It is safe for use on all types of paintwork, glass, rubber, and plastic surfaces. With SONAX Richfoam Shampoo, you can achieve professional-level results and keep your car looking its best.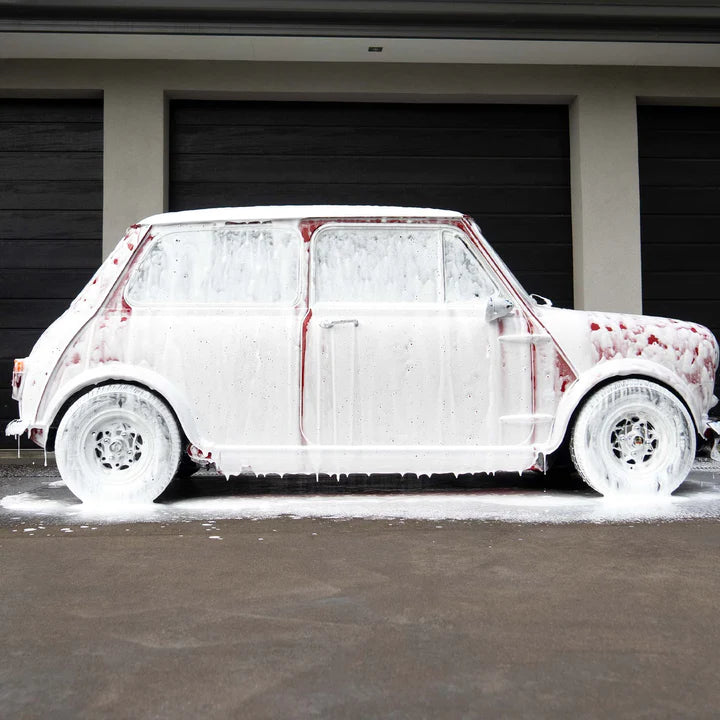 SONAX RICHFOAM
Wash Safely with SONAX
a specially formulated product that creates a thick layer of foam when applied to a surface. This foam acts as a barrier, trapping dirt particles and making them easier to remove. Unlike some other cleaning products, snow foam is gentle and will not damage any existing protective layers on the surface. It is a popular choice for regular maintenance and cleaning.
Logo list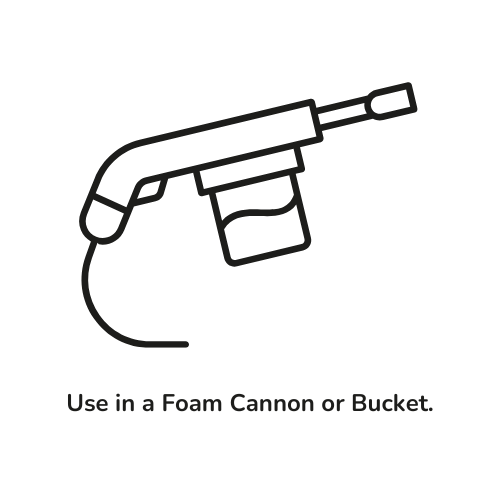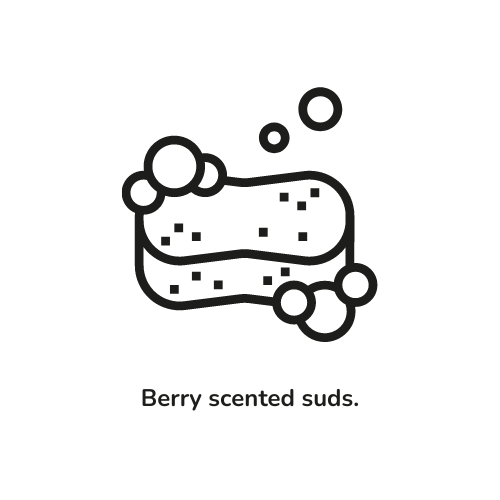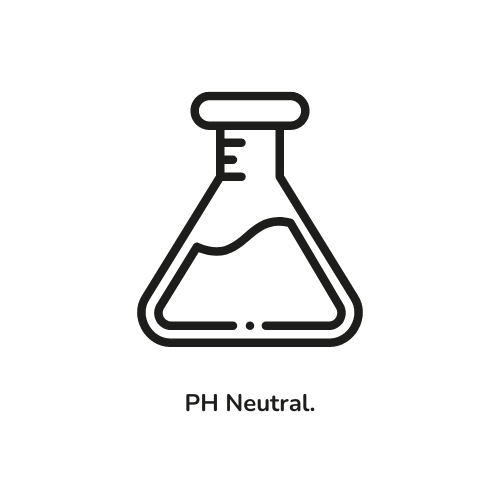 Commonly asked
How to use SONAX Rich foam car wash shampoo?

1. First, rinse your car with water to remove any loose dirt.

2. Then, dilute the foam shampoo according to the instructions on the bottle. Apply the foam to your car using a foam cannon or foam gun (You can also use it as a traditional bucket & sponge wash).

3. Starting from the top and working your way down. Let the foam sit for a few minutes to loosen dirt and grime.

4. Proceed to wash with a clean sponge or microfibre wash glove. Work in straight lines, overlapping the last pass each time.

5. Finally, rinse off the foam with water and dry your car with a microfiber towel for a clean and shiny finish.
Is it safe to use on plastic, rubber & metal?

Yes, SONAX Rich Foam Shampoo is safe to use on all exterior surfaces of the vehicle. The PH Neutral formula is also easy to wash off.
What is the dilution ratio?

DIlution ratio ranges from 1:5, to 1:15. Depending on how dirty the vehicle you're washing is.
Does it make thick 'snow foam'?

Yes, the foam produced is very thick, slippery & it smells amazing.
Our live chat line is always open. Speak to one of our Australian based experts today.

SONAX® - Perfecting the appearance of the automobile since 1950.