SONAX XTREME Ceramic Spray Coating
---
A spray with ceramic technology that seals and provides a long-term protective coating.
✓ Ultra durable high gloss protection.
✓ Lasts up to 6 months.
✓ Super hydrophobic!
✓ Ceramic Coating maintenance spray
✓ Protects against dirt, insects, bird droppings and road salt.
✓ Simple & easy to apply.
Free Shipping on orders $120+.

90% of SONAX customers receive their order in 3 days or less.

Free shipping does not apply to heavy items (5kg+ Canisters).
PRODUCT DESCRIPTION

SONAX® Xtreme Ceramic Spray Coating is a user-friendly, super-durable, ultra-hydrophobic ceramic paint protection formula. Just spray on and wipe off, with the next level Si-Carbon blend you get pro grade ceramic protection with that freshly waxed look. Get ultra long-term protection from the elements and relentless water beading in no time.

When it comes to ceramic coating a car, this is an affordable method that offers many benefits including UV protection.
How long does a Si-Carbon Ceramic Spray coating last?
With the correct care & maintenance, you can expect up to 6 months of protection. Maintaining the coating is a breeze with the SONAX Ceramic Series (Ceramic Active Shampoo & Ultra Slick Detailer).  
How do I apply the Si-Carbon Ceramic spray coating?
1. Ensure the paintwork is clean. Use of SONAX Profiline Prepare is recommended but not essential. 

2. Spray onto an applicator or clean microfibre towel & proceed to apply to half-bonnet-size areas of your vehicle. 

3. Buff off any excess residue & you're done!
See how we apply it here: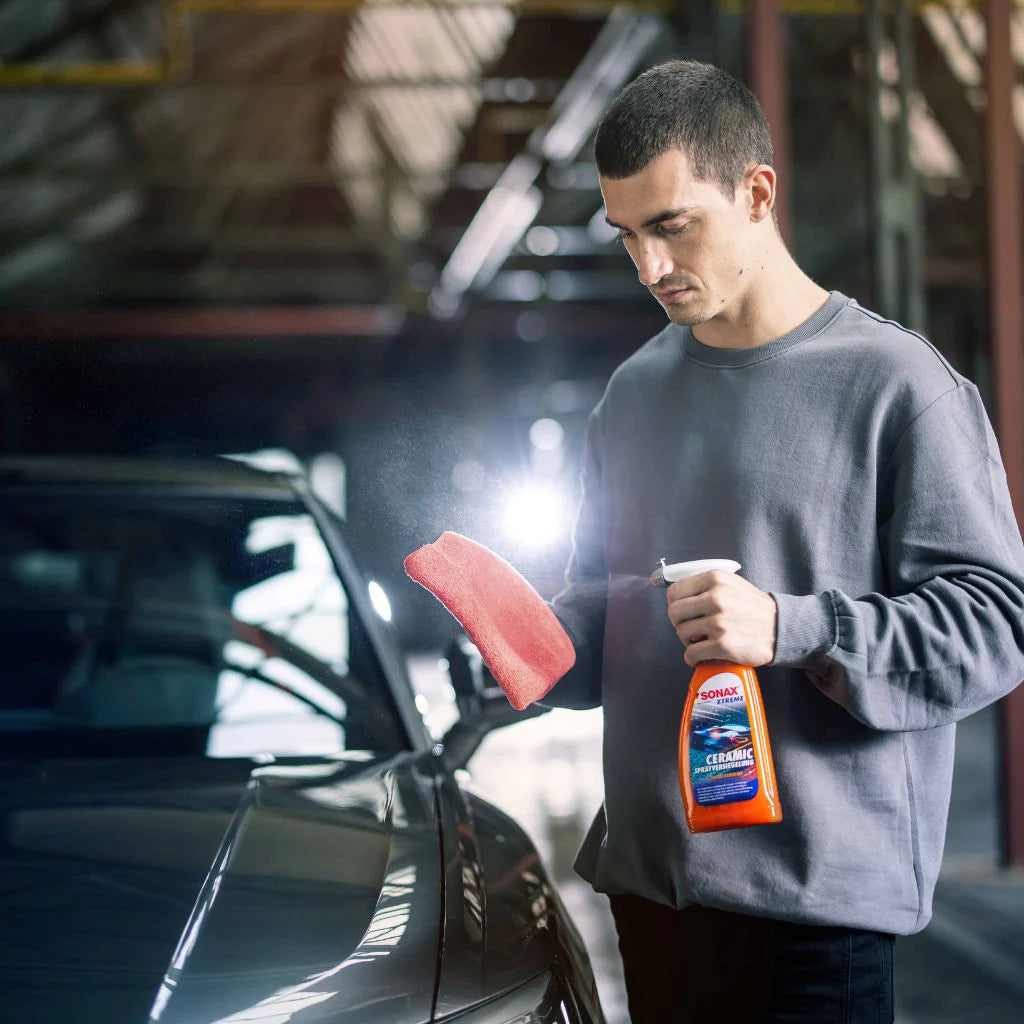 UNLOCK GLOSS YOU NEVER KNEW EXISTED.
SONAX® Xtreme Ceramic Spray Coating unlocks the full potential your paintwork has to shine & reflect like never before thanks to Si-Carbon Technology.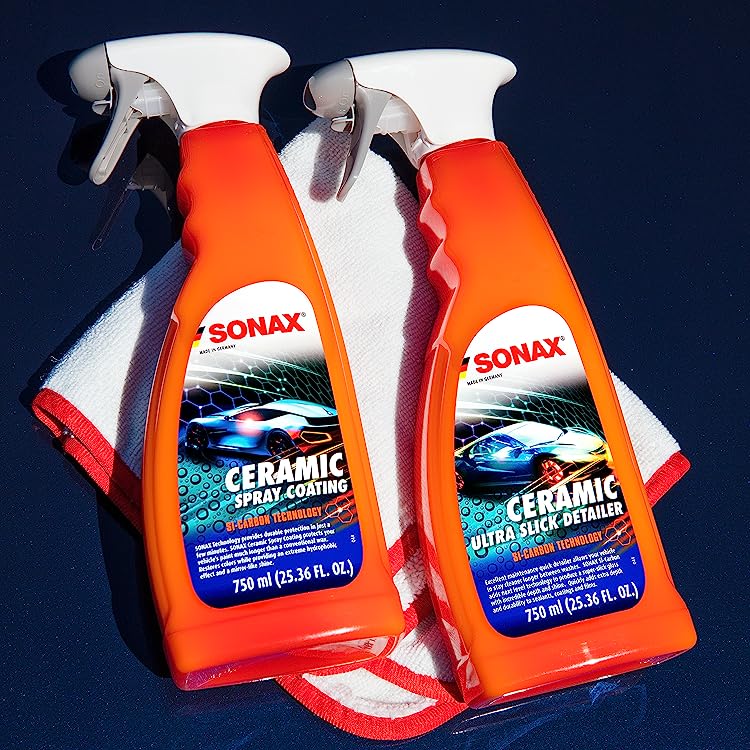 SIMPLICITY
COATING CARE MADE EASY.
Maintain your existing ceramic coating with ease using the SONAX® Xtreme Ceramic Series.
SONAX® Xtreme Ceramic Spray Coating FAQ's
I've never applied a Coating, can I easily apply Xtreme Ceramic Spray Coating?

Yes!

It's not rocket science. We promise.

It's simple, just spray it on (Your cloth or paintwork) & wipe off until streak free.
Can I coat my wheels too?

Our testing shows wheels are significantly easier to clean after a treatment with Xtreme Ceramic Spray Coating. Plus, they look awesome.
How long does it take to apply?

If your vehicle is already clean, it generally takes 15 minutes to apply.
How long will it last?

Testing of our Ceramic Spray Coating shows up to 6 months of protection on average. However, under normal circumstances it can last significantly longer.
Our live chat line is always open. Speak to one of our Australian based experts today.

SONAX® - Perfecting the appearance of the automobile since 1950.